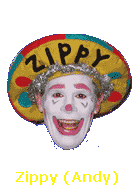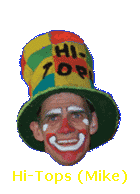 Swan Brothers (Almost World Famous) Circus
It's the Biggest Two-Man Circus Around
The Swan Bros. Circus is not your average circus. You won't find any elephants or tigers but you will find slapstick comedy, clowns, and fantastic juggling. The self-described zany duo, Andy and Mike Swan have been performing together for over 35 years.
It all began when our oldest brother, George, taught Andy how to juggle back in 1966. At first Andy says he would visit the circuses just to see the jugglers, once he saw what else the circus had to offer he fell in love.
After high school he went off to join the circus, the DeWayne Bros. Circus in Oregon to be exact. During his year with them he learned just about everything there was to learn about circus life.
In 1973 Andy approached his brother Mike with the idea of starting their own circus. Mike thought it was a great idea and they performed their first show in Wichita Falls, Texas, for a small group of 12 children. From there they went on to perform at fairs and festivals all over California, becoming what they call themselves: "The biggest two-man circus in the world". They perform shows throughout the year.






So what should you expect at a Swan Bros. Circus show? Andy says "off the wall humor". Families can also expect to see great slapstick clowning from Zippy & Hi-tops, juggling acts, balancing rola-bola, comedy magic, and of course lots of great audience participation, "the reaction we get is great" he said. "The best thing about what we do is the smiles and laughter from the kids" Andy says, "It is also fun for us. We enjoy what we do!"
At one show a man from China told Zippy he had heard of them all the way over in his country. It was then that they declared themselves "The almost world famous Swan Bros. Circus".
When asked what was the best experience he had ever had in all his years in the circus business, Andy replied "I would have to say it was getting to ride 'BERTHA the elephant' at a show in Reno, awesome!
But in all the years Andy has been doing this, he says his most unusual experience was winning on TV's "The Gong Show" in 1977. On the show he juggled bowling balls, a chain saw, clubs and spun plates over the head of a volunteer from the audience.
So will the circus brothers ever retire? Not if the Swan Brothers have it their way, they're hoping for another 15 years! Andy and Mike Swan prove that just because you grow into an adult doesn't mean you have to grow out of your childhood.
So in words of the words of the "Almost World Famous" Duo, May all your days be CIRCUS DAYS!
The ever popular Swan Bros. enchant and charm their audiences with an incredible array of circus feats they have mastered over the years and Fantastic audience participation, and much more. Better known as Zippy and Hi-tops the clowns this dynamic duo will delight and impress young and old alike. CIRCUSLY YOURS - ANDY SWAN

Want to hire The Swan Brothers Circus? We have three venue choices for your own "Grand Opening" (click a picture to enlarge):
| | | | | |
| --- | --- | --- | --- | --- |
| 1. Big Top circus | | 2. Outdoor Circus | | 3. Stage Show / Parties |
Contact us to request a quotation for your event.